Last Updated on: February 22, 2019 by: Celebs Podium
Currently, into his college career, Trevor Lawrence is already considered as 'once in a generation kind of a player.' The teen quarterback never misses to hand out exceptional performance in the playing field. Apparently, he is doing it since his early high school career.
Short Bio: Parents, Sister, Height
Trevor Lawrence was born on 6 October 1999 to his parents, Jeremy Lawrence and Amanda Lawrence. He is a native of Knoxville, Tennessee and has an older brother named Chase, who is a painter and sculptor. Trevor also shares a sibling bond with his younger sister, Olivia.
Trevor and his family are Christian. In fact, his parents are devout attendees of the Tabernacle Baptist Church, Cartersville, Georgia. They are Trevor's greatest inspirers and admirers.
Standing at the tall height of 6 feet and 6 inches (1.98m), Trevor attended Cartersville High School in Cartersville, Georgia. Subsequently, the young man buckled up for a career in football.
High School and College Career, Net Worth
Trevor thought of pursuing his career in football when he was just six. Some years later, he initiated his amateur sports career as a junior high school player.  Trevor won The Atlanta Journal-Constitution Player of the Year in 2016, thanks to his tally of 250 passes and 51 touchdowns as a junior player. Besides, Trevor led the Purple Hurricanes to 41 straight victories, winning two state championships.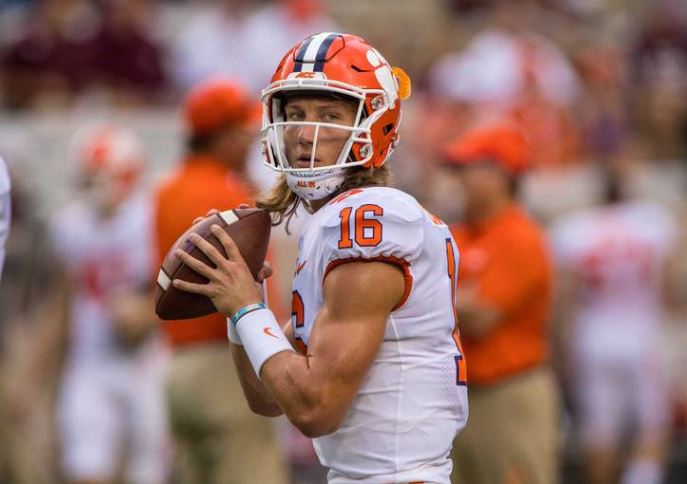 Trevor Lawrence plays for Clemson Tigers as part of his college career (Picture: The State)
Later on, Trevor joined the Clemson University and committed himself to the Clemson Tigers. After starting as a first-team quarterback, Trevor led Tigers to a 42-10 win over Pittsburgh in the ACC championship and also handed his team an undefeated regular season in 2018. Apparently, his team progressed to the 2019 College Football Playoff National Championship.
Playing for Clemson so far, Trevor records 30 touchdowns from 15 games.
As the young player is so early into his career, his actual net worth is still under review.
Who Is Trevor Lawrence's Girlfriend?
The 19-year-old wonderkid is not left out of an equally amazing personal life apart from the playing field. Trevor is dating same-age Aderson University soccer player Marrisa Mowry since 2016.
Trevor Lawrence enjoys a date with his girlfriend on 19 March 2018 (Picture: Trevor's Instagram)
The football quarterback first met Marrisa while in high school. In fact, the young pair shared the same neighborhood in Cartersville, Georgia. Marrisa is also a model and she shares her modeling pictures quite often on her Instagram beside the posts with her athlete lover.
The young couple is going so well with their romantic relationship and they often attend each other's game for cheer and support.
Some Interesting Facts About Trevor Lawrence
Trevor, who is still in his college career, will be eligible for the National Football League (NFL) Draft in 2021.
During his college career, Trevor has already received the honors of Offensive MVP of the National Championship, National Freshman of the Year, and ACC Rookie of the Year.