Last Updated on: February 11, 2020 by: Celebs Podium
American football quarterback Philip Rivers is a former player of NFL team Los Angeles Chargers. He played for the team right from the 2004 NFL draft until the early 2020 season.
Philip Rivers Bio & Family
The player was born as Philip Michael Rivers on 8 December 1981 in Decatur, Alabama, to parents Steve and Joana Rivers. His father is a former head coach of Decatur High's football team while his mom is a former teacher. Philip also has a younger brother, Stephen Rivers. He went to Athens High School in Athens, Alabama and NC State College.
The former Chargers star stands at the height of 6 feet 5 inches (1.96 m) tall and weighs around 103 kg.
Read: J.J. Watt; Wife, Brothers, Age, Height, Weight, Stats, Contract, College
Career & Net Worth
The 38-year-old has a net worth of $80 million from a professional NFL career. In the 2014 NFL draft, the Chargers picked him and around the two agreed to sign a lucrative contract worth $40.5 million in August. A part of the agreement also included a signing bonus of $14.5 million. Almost five-season later, he extended his contract of six years to be $94 million on 24 August 2009. Around $38 million was guaranteed money; he would set to receive.
However, Philip and Charges have parted ways after 16 years of close association. Charges on their social media posted,
Philip Rivers parting ways with Charges confirmed on 10 February 2020 (Picture: Chargers Twitter)
The club wrote,
For every …

minicamp
practice
game
throw
touchdown
win
dadgummit
memory

#ThankyouPhilip
Philip is a free agent as if for now, and there is no confirmation of his next NFL club.
Also: Joey Bosa; Dad, Brother, Age, Contract, College, Salary, Stats, Dating
Philip's Wife & Children Details!
Besides his professional obligation, he is married to his high school sweetheart Tiffany Rivers, since 2001. His wife is originally from Alaska and raised in Alabama. By profession, she is a co-founder of a swimwear line, Hermoza, in 2018, which means beautiful in Spanish. Together the couple shares nine children: four daughters, Clare, Grace, Rebecca, Anna, Sarah, Halle and Caroline, and two sons, Gunner and Peter Rivers. Anna is the youngest child born in March 2019.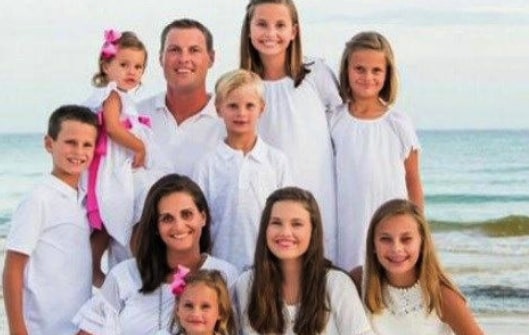 Philip Rivers with wife Tiffany and eight children (Anna still not born) image posted on 7 September 2018 (Picture: CBS News 8 Twitter)
They live in San Diego & Philip Commutes to Los Angeles in a $200,000 Luxury SUV.
At Last: Know About Chris Jones; Chiefs, Injury, Stats, NFL, Contract, Dating
Some Interesting Facts About Philip Rivers
In high school, he wore jersey number 17 to honor his father.
He completed his high school graduation in 1999.
Philip has won NFL passing touchdowns leader and NFL passing rating leader in 2008.
Back in 2003, he won ACC Player of the Year and ACC Offensive Player of the Year.
His wife converted to Catholicism a day before their weddings.