Every time Aaron Rodgers scores a rushing touchdown, his waist strapping celebration entices the Packers' fans to the fullest. He would plunge into the celebratory mood as if he is carrying some belt. And that's where the name for the celebration came- Championship Belt.  
Short Bio & Family: Age, Brothers, Height
Aaron Charles Rodgers aka Aaron Rodgers was born in Chico, California on 2 December 1983. The 36-years-of-age Aaron comes from a sports-loving family as his father, Edward Wesley Rodgers was a former offensive lineman for the Chico State Wildcats. Besides, one of his brothers, Jordan played as a quarterback for BC Lions in the Canadian Football League. Aaron's mother, Darla Leigh, and his other brother, Luke are not much into the media limelight.
Aaron moved to Ukiah, California with his family and attended Oak Manor Elementary School. Later on, he was again relocated to Beaverton, Oregon, where he resumed his studies attending Vose Elementary School and Whitford Middle School. After his return to Chico in 1997, Aaron attended Pleasant Valley High School and graduated in 2002.
The player stands tall at a height of 6 feet and 2 inches (1.88 meters) and weighs around 225 pounds (112 kg).
See Also: Know About Josh Jacobs; NFL, Age, Dating, Father, Stats, Contract, Salary
Career & Stats
Given his belongings from a sports family, Aaron was immensely passionate about sports since his high school days. Apparently, he was on the front page of the Ukiah Daily Journal for his terrific performance at a local basketball free throw competition at the age of 10. However, the gifted talent soon realized that he was tailor-made for football and pitched a very successful college career.
The boyhood dream of Aaron Rodgers came true in 2005 as he stepped into the NFL field being picked by the Green Bay Packers. Firstly making the impression with his backup spot in the team, Aaron transitioned as a quarterback in 2008 after Brett Favre announced retirement. Since then, the versatile sports-star has never looked back.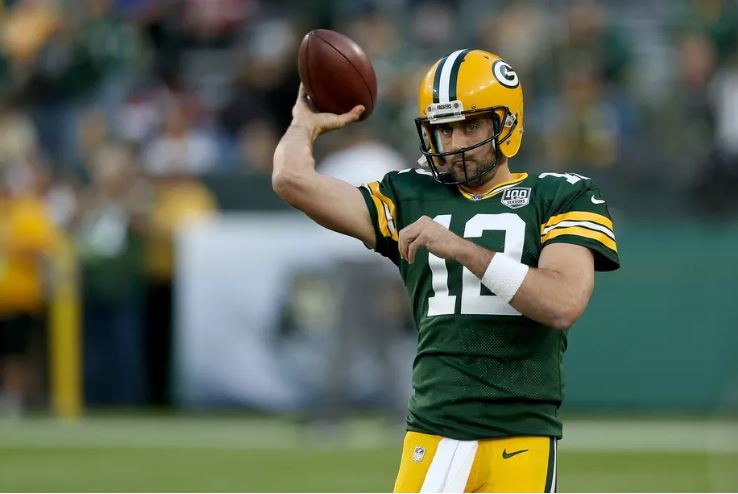 Aaron Rodgers enjoys long NFL spell with Green Bay Packers (Picture: SB Nation)
Aaron's NFL stats speak for his tremendous on-field success. The promising quarterback bags a league history with the record of 100-plus passer rating in six seasons from 2009 to 2014.  Besides, he has recorded 40-plus TD passes in two seasons claiming another record to his name. In as many as 164 regular-season games, Aaron has completed 3,560 passes and recorded 338 touchdowns.
More From NFL: Know About Kyle Long; NFL, Age, Wife, Stats, Retired, Net Worth
Net Worth & Earnings
It is no surprise that Aaron summons most part of his earnings from his professional football career. The exceptional quarterback has a hefty net worth of $70 Million let alone his salary of $20 Million.
Aaron penned a record-breaking, four-year, $134 million contract with the Packers in 2018, that includes $100 million guaranteed. The deal offers him an average salary of $33,500,000. The signing bonus includes $57,500,000.
Aaron Finds Relationship Bliss In Girlfriend, Danica Patrick
Since 2018, Aaron Rodgers is in cloud nine relationship-wise with the newfound love in American racing driver Danica Patrick. Aaron flashed how 'happy' he was with his girlfriend speaking to the People on 18 October 2018.
Aaron and his girlfriend, Danica Patrick make the 2018 ESPY Awards Red Carpet presence (Picture: People)
It was back in 2012 when the pair first met eyes with one another. However, with the meeting ending post email address exchange, their relationship turned romantic only after a long wait. The couple was recently spotted at the 2018 ESPY Awards walking the red carpet together.
Before Danica, Aaron was in a relationship with actress Olivia Munn. The two dated for three years till parting ways in 2017. Since then, Aaron has found his new bliss in Danica and hopefully, the pair plans to get married soon.
At Last: Know About Tedric Thompson; NFL, Wife, Age, Stats, Contract, Salary
Some Interesting Facts About Aaron Rodgers
Aaron won the Super Bowl XLV with Green Bay Packers in 2010. Besides, he was also declared Super Bowl MVP that season.
He has also managed two NFL Most Valuable Player awards in the years 2011 and 2014.
Aaron possesses English, Irish and German ancestries.