Last Updated on: September 4, 2020 by: Lucifer
Besides her identity as the daughter of legendary filmmaker Steven Spielberg, Mikaela Spielberg is on the verge of taking a center stage as up and coming porn star. She has begun self-producing solo adult film videos at the age of 23.
Mikaela Spielberg's Bio & Family: Steven Spielberg's Adopted Daughter!
The 23-year-old is known by her birth name, Mikaela George Spielberg. She is the adopted daughter of Academy Award-winning filmmaker Steven Spielberg and his wife, Kate Capshaw, born on 28 February 1996. With that, she is among the seven children of the Spielberg couple.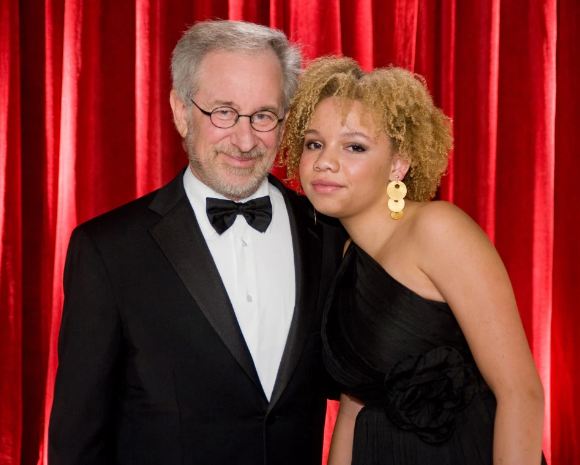 Mikaela Spielberg with her father Steven Spielberg (Picture: The Sun)
Getting more into her family details, Mikaela shares a sibling bond with three brothers and three sisters. Her brothers are Theo Spielberg, Sawyer Spielberg, and Max Spielberg. Moreover, Mikaela's three sisters, Destry Allyn Spielberg, Sasha Spielberg, and Jessica Capshaw.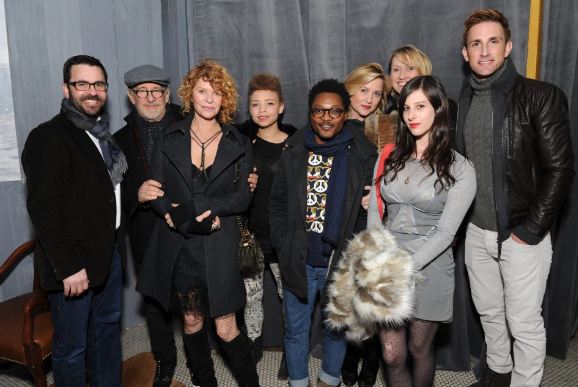 Mikaela Spielberg with her family (Picture: The Sun)
During an interview with The Guardian in 1999, her dad said that Mikaela's adoption was not to make Theo feel to question his racial identity. He also referred to the family as time-permitting practitioners of Judaism and Mikaela would be raised in the Jewish faith.
See Also: Antonella Roccuzzo (Messi's Wife); Age, Height, Job, Net Worth, & More
Porn Star Revelation!
Mikaela Spielberg has finally gathered some guts to lay out her career ambitions among the public. And on the bright side, she receives unceasing family support for what she wants from her professional life.
The young star on 19 February 2020, revealed that she has already started self-producing solo porn videos. She is also keen to land a job as a dancer in a strip club. She is now trying to obtain her sex worker license.
Mikaela broke the news to her parents via FaceTime at the weekend. Speaking to The Sun, the self-proclaimed 'sexual creature' stated:
I got really tired of not being able to capitalize on my body and frankly, I got really tired of being told to hate my body.

And I also just got tired of working day to day in a way that wasn't satisfying my soul.

I feel like doing this kind of work, I'm able to 'satisfy' other people, but that feels good because it's not in a way that makes me feel violated.
Mikaela, who currently resides in Nashville, Tennessee, is hopeful that of her career choice. Itis an attempt to her financially independent from her Hollywood family.
Explore: Maria Dolores (Ronaldo's Mom); Husband, Children, Net Worth, Height
Who Is Mikaela Spielberg Dating?
Reportedly, Mikaela is engaged to a man named Chuck Pankow in February 2020, who is over two decades older than her. Chuck, who is in his 50s, is a former American professional dart player. Besides, he is also a member and President of the Greater Nashville Darting Association. Her fiance is almost 27 years older than her, born on 30 August 1969 in Chicago, Illinois. He is known by another name, Peacemaker, and is into professional playing darts since 1991.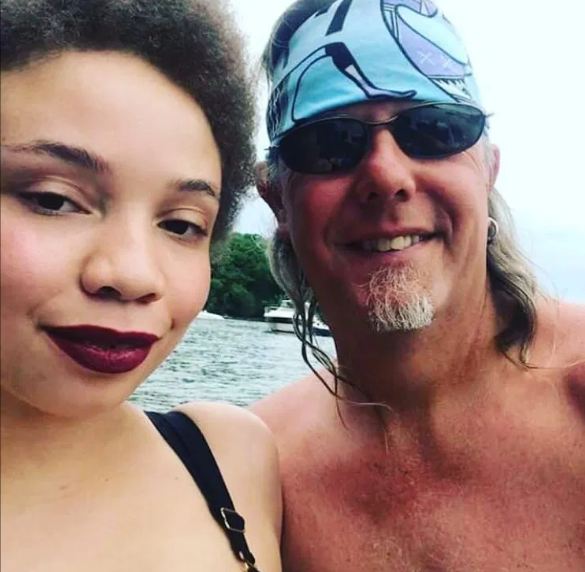 Mikaela Spielberg with her fiancé Chuck Pankow (Picture: The Sun)
Mikaela says that her fiancé is also rallying behind her budding adult entertainment career. She reiterated that she plans on working on solo projects so as not to put her relationship in jeopardy.
Mikaela Spielberg's Arrest Update & Release!
In terms of their personal life and relationship update, there have been many complexities. According to Fox News, on 29 February 2020, she was charged with domestic violence involving her fiance. The couple was celebrating Mikaela's 24th birthday and an argument erupted between the two when something rude was said to her.
As soon as the incident, the cops arrived to take the charge and booked Mikaela at the Hill Detention Center. The reason for the rift took place because of a misunderstanding and five months later, all the charges are dismissed from 1 September 2020. During one of her interviews with Fox News, she believed that dropping the case was right which is a practice for restorative justice. She also made it sure that from now onwards, she wants to live a life free and safe since she is an innocent personality.
Some Interesting Facts About Mikaela Spielberg
Mikaela refers to herself as a Polytheist on her Instagram page, meaning the belief in multiple Gods and deities.
Steven Spielberg flew home to East Hampton in New York immediately after the 1996 Oscars to adopt his new daughter, Mikaela.
She is regarded as the source of inspiration by Steven for his 2011 movie War Horse.