Last Updated on: January 30, 2020 by: Celebs Podium
Colin Firth, who hails from the English lands, claimed the prestigious Oscar in the year 2011. The talented actor was awarded for his tremendous portrayal of King George VI on 2010's biography-drama The King's Speech. It was Colin's first-ever Oscar win with the previous nomination for A Single Man in 2010.
Colin Firth's Bio, Family
Colin Firth was born as Colin Andrew Firth on 10 September 1960, in Grayshott, Hampshire, England. He is the eldest of three children of his academics and teachers' parents. His father, David Norman Lewis Firth, was a history lecturer at King Alfred's College. Besides, his mother, Shirley Jean, lectured comparative religion at the same college. As of his siblings, Colin's sister, Kate, is an actress and voice coach, and his brother, Jonathan, is an actor.
Colin moved to different places along with his parents throughout his childhood. He stayed for some time in Nigeria before moving to St. Louis, Missouri at the young age of 11. Subsequently, he returned to England and resumed his studies joining Montgomery of Alamein Secondary School (now called Kings' School).
Career, Net Worth & Earnings
While Colin was just 14, he dreamt of shining his career as a professional actor. With a bare interest in academics, Colin joined the National Youth Theatre in London and began polishing his acting skills. Later on, Colin joined the Drama Centre, London and started studying the basics of acting.
After about 9 years later, Colin initiated his acting career as a stage performer in 1983. A year later, he starred in the movie named Another Country, which was adapted from the play of the same name. Subsequently, Colin enticed the movie lovers with his portrayal of the real-life soldier, Robert Lawrence in the BBC drama, Tumbledown in 1988.
Read More: Tom Skerritt; Movies, Age, Net Worth, Wife, Children, Top Gun
In addition to that, Colin spread his acting proficiency with Shakespeare in Love (1998), My Life So Far (1999), Relative Values (2000), Where the Truth Lies (2005), and The Accidental Husband (2008). Colin also bagged the Oscar nomination for his 2009 drama flick A Single Man in 2010. Finally, a year later, Colin put his hands on Oscars for the 2010 historical biopic The King's Speech.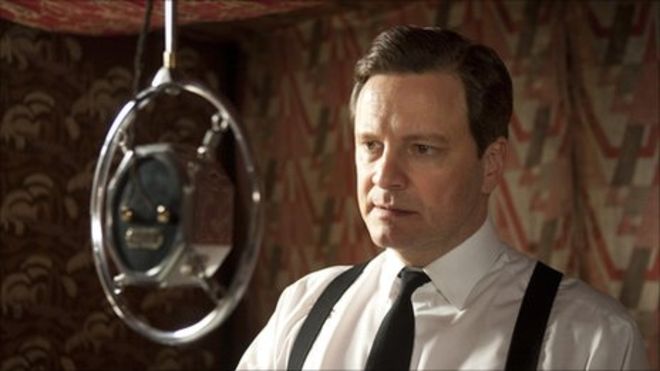 Colin's role on The King Speech (2010) handed him his maiden Oscar (Picture Source: BBC)
The actor par excellence has many commercially successful films under his belt. Starting from the first, his 1996 American romantic war drama film, The English Patient was a blockbuster. Colin essayed the role of Geoffrey Clifton in the Anthony Minghella direction. The movie of a production cost between $27 to $31 million made $232 million figure at the box office.
Likewise, his other blockbuster flicks are the 1998 American period drama-comedy, Shakespeare in Love. The movie made 11 times more profit, i.e. $289.3 million in a budget of $25 million. Talking about his recent blockbuster is the 2018 American musical fantasy film, Mary Poppins Returns. He portrayed the character of William "Weatherall" Wilkins in American film director, Rob Marshall blockbuster hit. The fantasy movie created quite a stir at the box office by gathering $349.2 million on a production cost of $130 million.
Kingsmen movies adding to his recent popularity, Colin Firth amasses a healthy net worth of $25 million. Besides, the promising actor is the owner of a luxurious house located in Grayshott, Hampshire, England. In addition, Colin has a beautiful mansion in Los Angeles. Other than that, Colin shows a massive love for cars with a $65K-worth Aston Martin DB9 on his vault.
Married Life With Wife Livia Giuggioli Amidst Relationship Controversies!
Colin Firth decided to tie the wedding knot with an Italian film producer and director, Livia Giuggioli, on 21 June 1997. It was three years after his initial relationship with actress Meg Tilly ended.
Colin and Meg, who were both casts in 1989 movie Valmont, started the romantic bliss in the same year. The couple was blessed with a child, a son named Will; however, their bond couldn't last long as they parted ways in 1994.
Colin Firth and Livia Giuggioli were married for almost 22 years (Picture: Mirror)
Since finding his new bliss with Livia, Colin shares two beautiful kids with his wife. Their first son, Luca is 18 whereas Matteo is 16 years old. However, the couple had to go through some uncanny time in the middle of their relationship.
Livia was the center of attention when the rumors of her dating Italian journalist Marco Brancaccia hit for over 11 months from 2015 to 2016. Clarifying to People, Livia accused Marco of stalking her while she was in no speaking terms with her husband, Colin.
Separated With Wife After 22 Years
However, the couple separated after 22 years of marriage in December 2019. And the separation comes after two years of news that a man accused of stalking Livia claimed they shared a passionate year-long affair. It reportedly made them meet up secretly all over the world.
Related: Penn Badgley; Wife, Net Worth, Height, Age, You, Movies, Education
It looks like the split was amicable as they still maintain a close friendship and remain united in their love for their children. Such instance was that the duo celebrated the New Year 2020 together with a group of their friends
Some Interesting Facts About Colin Firth
Besides Oscar, Colin has his hands on one Golden Globe Award, two British Academy Film Awards and three Screen Actors Guild Awards.
Colin Firth received a star on the Hollywood Walk of Fame and was also selected among the Time 100 in the year 2011.
Apart from acting, Colin has campaigned on issues of asylum seekers and refugees' rights and for the rights of indigenous tribal people.
Born English, Colin also learned the Italian language to impress his wife, Livia.