Last Updated on: February 2, 2020 by: Celebs Podium
Jason Momoa is an American actor known for his appearances on the 2016 superhero film Batman v Superman: Dawn of Justice, and in the 2017 ensemble Justice League. Besides, he has appeared on numerous TV Shows such as Stargate Atlantis, Game of Thrones, and Frontier.
What Is Jason Momoa Ethnicity?
Born as Joseph Jason Namakaeha Momoa on 1st August 1979 in Nānākuli, Honolulu, Hawaii, he was raised in Norwalk, Iowa. He is the son of Joseph Momoa, a painter and Coni Momoa, a photographer. He has native Hawaiian heritage from his father's side.
When Momoa was six months old his mother took him to her hometown of Norwalk, Iowa. His mother is of German, Irish, and Native American descent. However, he identifies strongly with his Hawaiian roots. His race is half Native Hawaiian, and his ethnicity is Polynesian. His Polynesian heritage even influenced his Aquaman character. Furthermore, he has been actively advocating for an issue near and dear to Hawaiians' hearts: Mauna Kea, a dormant volcano on the island. In August 2019, he uploaded a 12-minute video on YouTube in which he spread the word about Mauna Kea.
Inside The Love Life Of Jason Momoa & Lisa Bonet
The 6 foot 4-inch handsome hunk is currently married to actress Lisa Bonet. Lisa is 12 years elder than Jason, aged 40.
Read More: Penn Badgley; Wife, Net Worth, Height, Age, You, Movies, Education
It was the first time in 1987 when the 8-year-old Jason saw his future wife Lisa on the TV screen. 'Mommy, I want that one', he felt like 'I'm going to stalk you for the rest of my life and I'm going to get you.' However, it was the year 2005, when Jason met at Lisa in a New York City jazz club through mutual friends. Both were in matching dreadlocks hair. Slowly, their love starts to blossom and began to spend time together.
Jason Momoa and his wife Lisa Bonet have been together for more than a decade (Picture: Pinterest)
On 23 July 2007, they welcomed a daughter named Lola Iolani Momoa. However, it was Lisa's second as she shares a daughter Zoë Kravitz with her ex-husband Lenny Kravitz. They eloped in 1987 and divorced in 1993. Jason and his step-daughter Zoë maintain a sound relationship and he supports at every moment.
Again, on 15 December 2008, they welcomed a second child, a son named Nakoa-Wolf. The Momoa family is complete after the arrival of the children.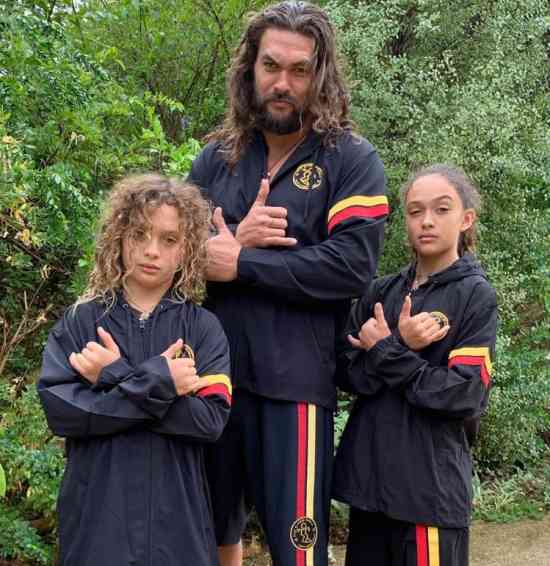 Jason Momoa is a proud father of two kids (Picture: Jason's Instagram)
Jason and Lisa surprised the fans and followers, getting married after 12 years together in October 2017. The couple tied the wedding knot during a private ceremony held at their house in Topanga, California. And as of 2020, the couple is still strong as ever, demonstrating their love among their family members.
Related: Tom Skerritt; Movies, Age, Net Worth, Wife, Children, Top Gun
Some Interesting Facts About Jason Momoa
Jason is a director, writer, and producer for the 2014 drama thriller movie Road to Paloma. He also starred in the lead role in the movie. Moreover, his wife Lisa played his on-screen love interest in the movie.
He has a tattoo on his left forearm is a dedication to his culture, as it represents a shark—his family's 'aumakuea. The term "aumakuea" in Hawaiian mythology is said to be a family spirit or guardian who dies and comes back to life in a different form to protect its ancestors.
He is set to appear as Duncan Idaho in the upcoming Denis Villeneuve epic science fiction film Dune in 2020.