Dakota Johnson is an American actress who gained popularity from her role as college senior Anastasia Steele in the 2015 drama thriller Fifty Shades of Grey. She is set to appear as Maggie in the upcoming musical comedy-drama film, The High Note.       
Dakota Johnson Family, Early Life
Dakota Mayi Johnson was born on 4 October 1989 in Austin, Texas to parents Don Johnson and Melanie Griffith. Her father Don is an award-winning actor, producer, director, singer, and songwriter. Similarly, her mother is a television actress, and film producer. She has four paternal siblings from his father's marriage; Jesse Johnson, Grace Johnson, Jasper Breckenridge Johnson and Deacon Johnson. Moreover, she has two maternal siblings; Stella Banderas and Alexander Bauer.
Dakota spent her childhood in various locations with her parents on film sets. Earlier, she attended Aspen Community School and then moved to Santa Catalina School. Later, she transferred to New Roads School in Santa Monica, California. She was interested in modeling at the age of 12 and even did a photo shoot with children of other celebrities for Teen Vogue.
Career, Movies, TV Shows
Johnson made her movie debut from 1999 comedy movie Crazy in Alabama, directed by her then-stepfather, Antonio Banderas. She took several acting classes before a starring in a minor role as Amelia Ritter in the Oscar-nominated 2010 film, The Social Network.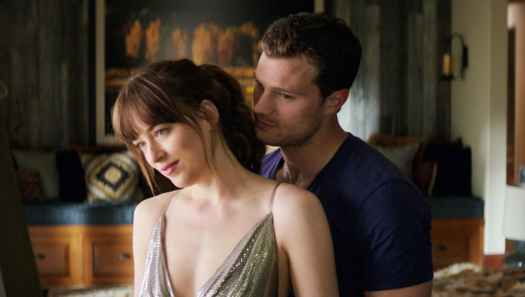 Dakota Johnson appears alongside Jamie Dornan on the 2015 drama thriller Fifty Shades of Grey (Picture: Allure)
In 2012, Dakota made her television debut as Kate in the Fox comedy series Ben and Kate. Meanwhile, she made her acting breakthrough in 2015, after being cast as Anastasia Steele in the erotic romantic drama film Fifty Shades of Grey. Later, she appeared on its series Fifty Shades Darker (2017), and Fifty Shades Freed (2018). Her work on movies include, The Five-Year Engagement (2012), Need for Speed (2014), How to Be Single (2016), Bad Times at the El Royale (2018), and The Peanut Butter Falcon (2019).
How Much Is Her Net Worth?
Dakota belongs to the wealthy acting family. Her father has a net worth of $40 million and her mother enjoys $40 million fortune from her career.
You May Like: Know About Ronni Hawk; Family, On My Block, TV Shows, Boyfriend, Height
Well, the actress has a net worth of an estimated 14 million. In 2016, she bought a $3,550,000 house located in the Hollywood foothills, above the bustling city of West Hollywood. The 3,210-square-feet house consists of 3 bedrooms and 3 bathrooms.
Dating Status, Boyfriend
The 30-year-old is currently in a relationship with a singer boyfriend Chris Martin. Chris is the lead singer and co-founder of the British rock band Coldplay. The couple started dating in October 2017 and has appeared on numerous events together. However, in June 2019, the news surrounded that called off their relationship due to their differing views of the future.
Well, the couple reconciled their romance at the end of July 2019 and even celebrated Dakota's 30th Birthday in October.
Dakota Johnson spotted with her boyfriend Chris Martin in New York City in August 2019 (Picture: E! News)
Before Chris, she was in a relationship with the Welsh singer Matthew Hitt from 2014 to 2016. Moreover, she dated an American actor Jordan Masterson from 2011 to 2014. She also has dated HoneyChild band member Noah Gersh.
Explore: Know About Sierra Capri; Age, Ethnicity, Net Worth, Parents, Wiki, Dating
Some Interesting Facts About Dakota Johnson
Dakota was diagnosed with hyperactivity (ADHD) at her early age due to which she changed schools seven times.
She and her sister Stella Banderas played daughters to their real-life mother, Melanie in her debut movie Crazy in Alabama.
In 2019, she co-directed her first music video with Cory Bailey for Coldplay's "Cry Cry Cry" song featuring her boyfriend Chris Martin.