Last Updated on: April 22, 2020 by: Celebs Podium
Besides sharing a blood relation with the famed actor, Will Smith, Trey Smith earns recognition as an actor and a DJ. He is definitely following the footstep of his father as well as his actress mother.
Insights on Trey Smith's Bio: Age, Mother, Siblings, Education
The 27-years-of-age actor was born as Willard Carroll Smith III on 11 November 1992, as the only child of his father Will Smith and his then-wife, Sheree Zampino. Trey grew up in his hometown of Los Angeles, California, the United States, and had to see his parents split up with a divorce when he was just three years old.
Trey Smith wishes birthday to his mother Sheree on 17 November 2019 (Picture: Trey's Instagram)
After divorcing with two times Academy Award-nominated actor husband, Trey's mother went on to marry former American football player Terrell Fletcher. Soon, she gave birth to their first child and Trey's step-sister, Jodie Fletcher. However, that relationship too ended with a divorce.
See Also: Mikaela Spielberg (Steven Spielberg's Daughter) Bio, Family & Facts
On the other hand, Will married actress Jada Koren Pinkett in 1997 and gave birth to two children; Trey's younger step-brother actor and singer, Jaden Smith, and Trey's younger step-sister actor/singer, Willow Smith.
The actor/DJ completed his education at Oaks Christian High School.
Trey's Relationship With Will and Sheree After Divorce
Trey, who stands tall at a height of 6 feet (1.84 meters), felt betrayed and abandoned by his father after Will's divorce from Sheree. They struggled for years before coming to the point where they became comfortable around each other.
On his Instagram video posted on 28 November 2018, Will explained how tough it was to face the struggle between father and son for years. Moreover, he explained how wild blessing it was to finally recover and restore the loving relationship with his beautiful son.
Trey also maintains a healthy relationship with his mother after she ended terms with Will. Putting light on the divorce, Sheree had stated that Will had always been straight and it was the disparity of success between the two that ended up being one of the main reasons for their separation.
More From Celebs: Lily-Rose Depp (Johnny Depp's Daughter); Mother, Movies, Boyfriend, Age, Brother
Trey's Career In Movies And Music, Net Worth
Mostly, Trey is known for his work in the music field. He performs as a DJ under the stage name, AcE.  He made his DJ debut in December 2012. Over the years, he has put on many extended plays like Collection (2010), Orwell (2012), and Cocoa (2012).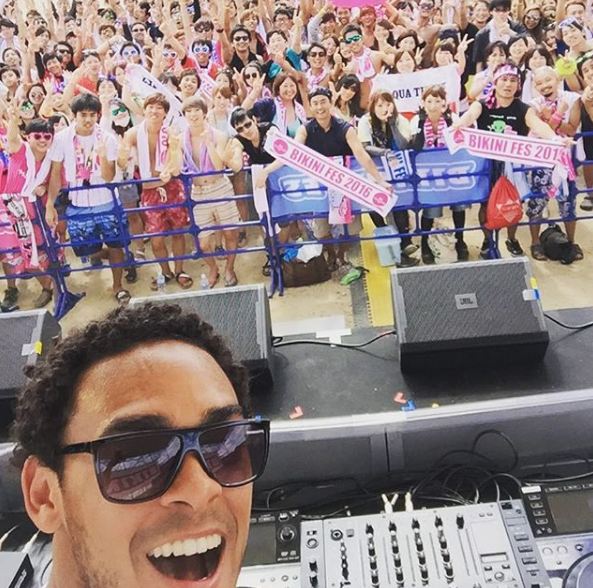 Trey Smith performing his DJ work on 29 August 2016 (Picture: Trey's Instagram)
On top of that, he is an actor and has been part of a few television shows and movies. Trey's recognizable television appearance came with the comedy series All of Us in 2003. In the show, he portrayed as Cris-Cross in two episodes. To the recent, the actor appeared as a football player in the 2008 short film, The Speech.
At Last: Brooklyn Beckham (David's Son); Height, Tattoos, Girlfriend, Age, Net Worth
For his acting and DJ works, Trey summons a commanding net worth of $2 million. In the meantime, he basks on the wonderful earnings of his actor father whose net worth figure swirls around $350 million.
Some Interesting Facts About Trey Smith
After graduating from high school in 2011, Trey even earned a football scholarship to Division I-AA Northern Arizona University in Flagstaff, Arizona.
Trey also moonlighted as a reporter for Access Hollywood for a period as per New York Daily News.
Back in 2016, he released a music video titled Find You Somewhere which was directed by his step-mom, Jada and featured his step-siblings, Jaden and Willow.
He loves playing video games and often shares the streams on his Instagram account.