Scottish-born former American football placekicker Lawrence Tynes has played for six different soccer teams. He is the two-time recipient of the NFC champion in 2007 and 2011 and 2012 NFC Scoring Leader.
Lawrence Tynes Bio & Family
The player was born as Lawrence James Henry Tynes on 3 May 1978 in Greenock, Scotland, the UK to parents, Larry and Maggie-Ann Tynes. Lawrence's father was a member of SEAL Team 2 stationed in Scotland in the early 1970s and currently works as a detective in the Santa Rosa County, Florida Sheriff's Department in Milton, Florida. He has two brothers, Mark and Jason Tynes. One of his brother Mark is serving 27 years imprisonment after involving transporting 1600 kg of marijuana from Texas to Florida in 2004.
After completing his high school, Lawrence went to Troy College. The former stands at the height of 6 feet 1 inch (1.85 m) tall and weighs around 88 kg.
Read: Know About Nick Vannett; NFL, Age, Girlfriend, Stats, Contract, Salary
Career, Stats & Net Worth
The 41-year-old has a net worth of around $1 million. He remained undrafted in 2001 but spent the first two seasons with the Kansas City Chiefs in their practice squad. He went to Scottish Claymores in 2002 for a while and played for the Ottawa Renegades from 2002 to 2003. Lawrence then went to the Chiefs from 2004 until 2006 and the New York Giants from 2007 to 2012.

Lawrence Tynes playing stats (Picture: Pro Football Reference)
A year later, he and Tampa Bay Buccaneers signed a one-year contract worth $905,000 on 17 July 2013. In the same time, he got contaminated by Methicillin-resistant Staphylococcus aureus (MRSA); a bacterium that causes infections in different parts of the body. Within one season, he got released by the team on 11 March 2014 and in 2015, he sued Buccaneers for $20 million.
Also: Know About Ryan Russell; NFL, Age, Cowboys, Stats, Bisexual, Height
Who Is Lawrence Wife?
Besides his soccer career highs and lows, Lawrence relishes great matrimony. He and his wife Amanda Tynes share a great marital comrade and is reflected in multiple social media uploads made by Lawrence. They were best friends before exchanging their wedding vows in April 2011.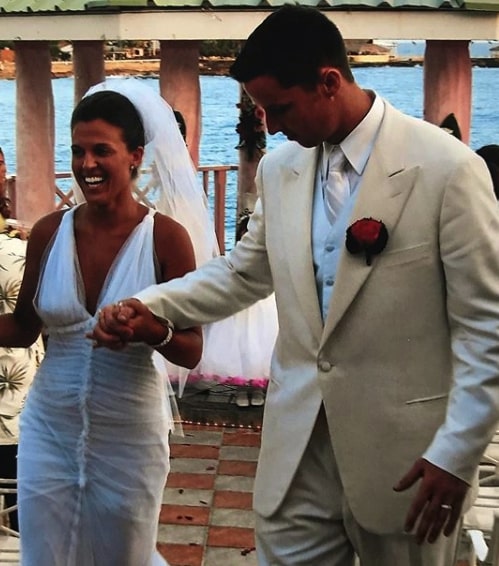 Lawrence Tynes mother's day post for wife Amanda of their wedding snap on 12 May 2019 (Picture: Lawrence's Instagram)
Together, the couple shares twins sons named Caleb Tynes and Jaden Tynes.
At Last: Know About Dylan Moses; Alabama, Twitter, Stats, NFL, Age, Dating
Some Interesting Facts About Lawrence Tynes
According to Lawrence, the punishment for his brother is too harsh.
His brother, Mark, has always been belligerent and uncooperative during his court cases.
Mark was given maximum jail sentence because of his foul and unruly behavior.
In 2008, he tore his meniscus that was bothering him since training camp.