Last Updated on: February 21, 2019 by: Celebs Podium
Just into his teen, Zion Williamson certainly is a huge prospect in basketball fraternity. Since breaking into the sports at a very young age, Zion marked huge impression with his high school career and keeps the same pace with his on-going college career with the Duke Blue Devils of the Atlantic Coast Conference (ACC).
Early Life, Parents Details
Zion Williamson was born as Zion Lateef Williamson on 6 July 2000 to his parents, Lateef Willaimson and Sharonda Sampson. His father, Lateef served as a football defensive lineman while his mother, Sharonda was a sprinter at Livingstone prior to her post as a middle school health and physical education teacher. Zion was raised in his hometown of Salisbury, North Carolina until he was 2.
Following the death of his maternal grandmother, Zion moved to Florence, South Carolina with his family. By the time he was 5, his parents divorced and his mom married a former Clemson basketball player, Lee Anderson. Zion also has a younger brother named Noah.
High School & College Career
Zion's love for basketball grew when he was just five years old. With the coaching of his mother, Zion competed in the youth leagues and was a part of Sumter Falcons at the Amateur Athletic Union (AUU) circuit. Besides his former-basketball-player stepfather coached him to improve his point guard skills before making a way into Johnakin Middle School's basketball team.
Subsequently, the promising kid initiated his high school career attending Spartanburg Day School in South Carolina. During his junior season, Zion averaged 36.8 points, 13 rebounds, 3 steals, and 2.5 blocks per game. Besides, his senior career stats recorded 36.4 average points, 11.4 rebound and 3.5 assists per game.
Standing at the tall height of 6 feet and 7 inches (2.01 m), Zion initiated his college career with Duke Blue Devils on 15 August 2018. He recorded a double-double of 29 points and 13 rebounds in Duke's 86-67 victory over Canadian University Ryerson. Besides, on 6 November later that year, Zion scored 28 points in his first regular season game with Duke. The game ended in 118-84 points victory for the Duke against Kentucky.
Besides his recent strong performances at the Atlantic Coast Conference (ACC) puts Zion in the huge picture. The power forward tallied 25 points against Clemson on 5 January 2019 backed by his 18 points to gun down number 3 ranked Virginia on 9 February 2019.
Salary & Net Worth
The promising athlete is so early in his career; however, as per Forbes, the young starlet implies to be among the richest athletes in the near future. ESPN basketball analyst Fran Fraschilla claimed that Zion will make $1 billion net worth by playing basketball effortlessly.
Besides, Zion reportedly earns an average salary of $45K with Duke Blue Devils.
Recent Injury Setback
The potential forward, who is projected to be the first overall pick in the 2019 NBA draft, received major setback following a knee injury in Wednesday night's confrontation with North Carolina. As the Duke freshman turned for the first offensive set of the night, his shoe exploded living the player into the floor grabbing his left knee. Zion immediately left the playfield and rushed for further examination.
Catch Zion Williamson's unfortunate injury (Video: ESPN)
Following the incident, US former president Barack Obama took over his Twitter to wish for the speedy recovery of the wonderkid. Meanwhile, Zion is exasperated with Nike over the broken sneaker injury and is likely to file a lawsuit against the company.
Is Zion Williamson Dating His Prom Date?
Despite the humongous media coverage at this young age, Zion Williamson never speaks about his relationship life in public. Amidst the star's denial to speak off, the rumors speculating his dating with high-school prom-date, Tiana White surfaces over the social media.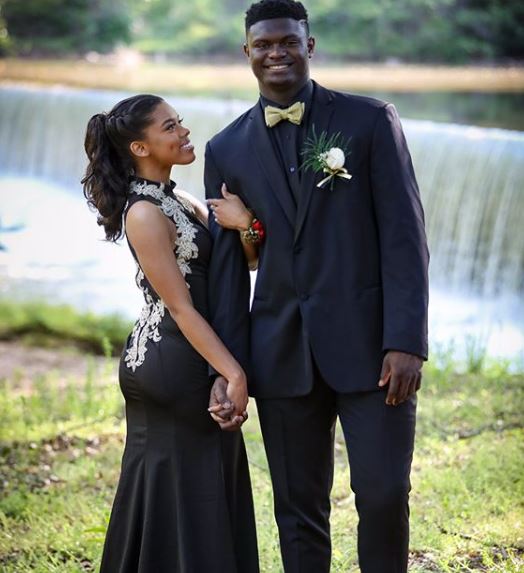 Zion Williamson with his rumored girlfriend on 1 May 2018 (Picture: Zion's Instagram)
Zion shared the prom night with Tiana during their high school days. The basketball forward even posted some glimpse of the exciting event on his Instagram. Although Zion was crowned Prom King at that event, Tiana fell short of the Prom Queen title.
Some Interesting Facts About Zion Williamson
Zion's high school career honored him with McDonald's All-American, runner-up for Mr. Basketball USA, and USA Today All-USA first team titles.
As per different sports pundits, Zion resembles NBA players LeBron James and Julius Randle.
Zion's former-football-defensive-lineman father earned All-American honors at Mayo High School in Darlington, South Carolina.