Past his mid-20s, Manny Machado has guarded a significant place in Major League Baseball since joining the league in 2012. A seven-year-long stint with Baltimore Orioles saw him move to the Los Angeles Dodgers, before landing the largest deal ever by a free agent with his recent move to San Diego Padres.
Short Bio: Age, Height, Ethnicity
Manny Machado, age 26, was born as Manuel Arturo Machado on 6 July 1992. He was raised in Hialeah, Florida by his mother, Rosa Machado and his uncle, Geovanny Brito. Manuel never had a father-son relationship with his biological father, instead, it was his uncle who taught him everything while growing up. Besides, his grandfather, Fransisco Nunez cared and supported him until he waved goodbye in 2009.
As of his educational background, Manny joined Miami Private School in Miami only to later attend Florida International University.
With mixed American-Dominican ethnicity, Manny Machado stands at the tall height of 6 feet and 3 inches (1.91m).
MLB Career, Stats
Manny Machado entered the field of professional baseball as the Baltimore Orioles player, who selected him as the 3rd overall pick in the 2010 MLB draft following a $5.25 Million contract.
Two years later, the aspiring player made his MLB debut against Kansas City Royals on 9 August 2012. The following day, he recorded his first and second career home run against the same opponent. With a promising start, Manny made to the All-star team by 2013 and he continued his journey with Orioles until 2018.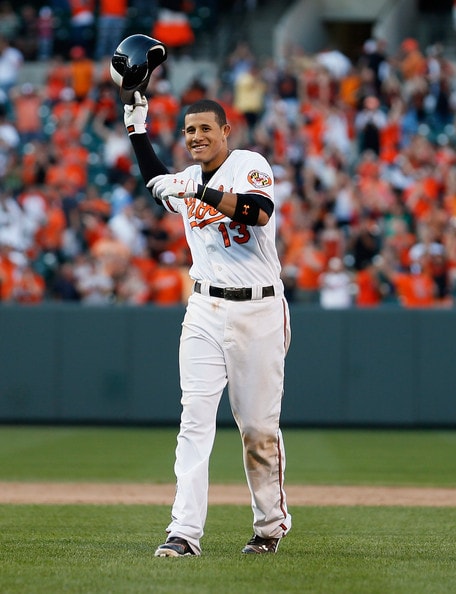 Manny Machado during his Baltimore Orioles days (Picture: Zimbio)
Back on 18 July 2018, Manny was traded to the Los Angeles Dodgers and he chose the number 8 jersey, being the fan of the former basketball star Kobe Bryant.  His Dodgers' debut came against the Milwaukee Brewers on 20 July 2018, where he registered two singles and two walks. Following that, he claimed NL West pennant as a Dodger.
After the stint with Dodgers, Manny remained as a free agent for long only to be snapped by San Diego Padres on a record $300 Million deal recently.
A long-haul stint in MLB has gifted Manny Machado with impressive career stats. With the total of 926 games he has played so far, Manny has registered 522 runs and 175 home runs. Besides in 2018, he played 162 games and recorded 297 average, 35 doubles, 37 home runs, and 103 RBI.
Salary & Net Worth
Manny Machado is believed to summon the hefty net worth of over $5 Million; however, some sources also reveal his earnings to go past double of that sum.
Besides, the player's average salary is estimated to leap over $30 Million. Manny signed a $16 Million-worth contract in 2018, only to bag a $300 Million deal from the San Diego Padres in 2019.
Marital Life With Wife, Yainee Alonso
Backed by his astounding sports career, Manny Machado is enjoying all good flavors from his personal life since meeting the girl of his dreams. In fact, the latest Padres signing kissed and pronounced Yainee Alonso as his wife in November 2014.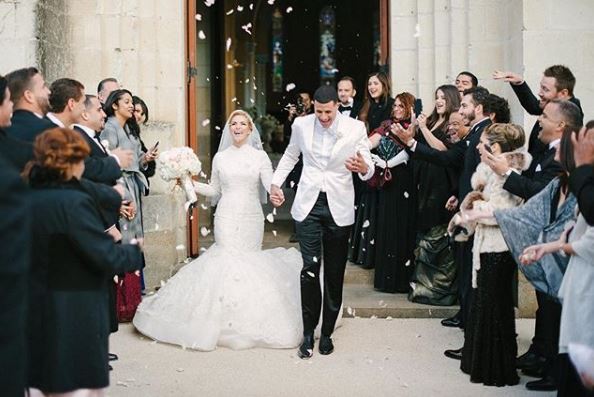 Manny Machado wishes anniversary to his wife on 7 December 2018 (Picture: Manny's Instagram)
Yainee, who is the sister of MLB star Yonder Alonso, fell for Manny a long time ago. However, the pair decided to take things further with an engagement in 2013, followed by a blissful matrimony a year later.
Some Interesting Facts About Manny Machado
Until now, Manny has garnished his MLB career with three All-Star team inclusions (2013, 2015, and 2016), a Platinum Gold Glove in 2013, and two Gold Glove Awards in 2013 and 2015.
Besides, he has played for the Dominican Republic in the 2017 World Baseball Classic, and for the 18U United States teams in the 2009 COPABE Pan Am "AAA" Championship as part of his international career.
Manny has named his dog after his idol and basketball legend, Kobe Bryant.