Last Updated on: July 5, 2020 by: Phil
American MMA fighter Jorge Masvidal competes in the UFC's Welterweight division. Before stepping in the UFC ring, he competed in various mixed martial arts events including Bellator, Strikeforce, Shark Fights, and World Victory Road.
Jorge Masvidal Bio & Family
The UFC fighter was born on 12 November 1984 in Miami, Florida. His Cuban father, Jorge Masvidal Sr. and Peruvian mother raised him. He went to St. Brendan High School to learn wrestling, but his grades did not allow him to stay.
Also Read: Andre Iguodala; Contract, Grizzlies, Lakers, Age, Team, Wife, Height
Jorge stands at a tall height of 5 feet 11 inches (1.83 m) and weighs around 77 kg.
Career & Net Worth
The fighter has a net worth of $1 million, and his earnings from 15 UFC events are almost $1,421,000. His most recent fight was with Darren Till on 16 March 2019 in the main event at UFC Fight Night 147. He took a hefty paycheck from his victory over Darren via knockout in the second stage.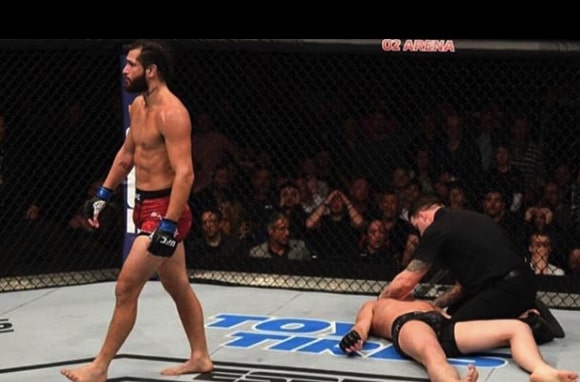 Jorge Masvidal shares his winning image over Darren on 16 March 2019 (Picture: Jorge's Instagram)
His professional career came in 2009 after signing to the Bellator in the Lightweight division. In his very first match, he had a record of defeating Nick Agallar by TKO punches in the first round. Four years later, he stepped into the UFC in 2013.
Talking about his early days, Jorge made his MMA debut in 2003 where he took part at the Lightweight division. Similarly, he holds a great MMA record of 32 wins out of 45 fights including 13 by stunning blow, two by tap outs, and 17 were by decisions.
Jorges Shares Three Children With Ex-Partner
Speaking about his relationship status, Jorge is neither married nor does he have a wife. According to Players wiki, he shares three children with his former girlfriend, Iman Kawa with whom he had 10 years of an affair. The former's eldest child children are both daughters aged 15 and nine including the youngest son who is two years old.
Related: J.J. Watt; Wife, Brothers, Age, Height, Weight, Stats, Contract, College
Iman is the founder of Better Than Your Mother's, which produces customized cookies. Moreover, she shares her recipes for cookies on her Youtube channel.
Jorge is still featured on Iman's YouTube channel, Better Than Your Mother's; she started on 29 June 2017. One of their video titled Better Than Your Mother's Episode 1 Featuring Jorge Masvidal was shared in early November 2017.
Jorge Masvidal in Iman's YouTube video on 2 November 2017 (Video: YouTube)
Surprisingly, it is still not clear whether Jorge and Iman are together or not. But, they are occasionally seen in a picture on social media. In October 2019, Iman shared a family picture on her Instagram where Jorge was seen together with her family.
Some Interesting Facts About Jorge Masvidal
From a very young age, Jorge was very keen on street fighting.
Prior to his MMA career, Jorge joined boxing during 2005.
During his free time, Jorge loves to play with culinary and enjoys his time in kitchen.
He launched his own booze brand, Recuerdo Mezcal, a Mexican distilled alcoholic beverage in 2020.