Last Updated on: September 4, 2020 by: Lucifer
Christian Yelich is no doubt a superstar on the field. The California-born athlete enjoys a terrific professional run after tuning up a fantastic amateur career. Meantime, Christian surfaced around controversy following an explicit Twitter content couple of years ago.
Family Life, Age, Mom, Height
The 27-years-of-age baseball player was born as Christian Stephen Yelich on 5 December 1991 in Thousand Oaks, California. He is one of the three sons of his Croatian-descent father and ever-so-young mother, Alecia Yelich. Among Christian's two younger brothers, Colin is also into baseball while Cameron serves as a United States Marine. His mother works as a realtor at Compass Real Estate, Beverly Hills, Malibu, and is the biggest strength and support system of Christian for his chosen career.
Christian garnered interest in baseball after growing up in the athletic family. The first to name with the sporting blood in his circle is his maternal grandfather, Fred Gehrke, who was an American football player. Apart from that, his uncle, Chris Yelich, made a career in football playing for UCLA Bruins in the 1980s.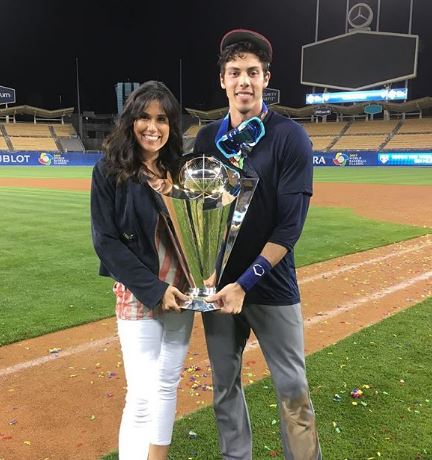 Christian Yelich wishes Mother's Day to his mom Alecia Yelich on 15 May 2017 (Picture: Christian's Instagram)
The player stands at a tall height of 6 feet and 3 inches (1.9 m), attended Westlake High School, and kicked off his amateur baseball career.
Christian Yelich MLB Stats: Contract & Salary
Following a fascinating amateur high school career, Christian bagged massive attention and headed to the Miami Marlins as 23rd overall pick in the 2010 MLB Draft. Soon, the newcomer penned a contract with $1.7 Million signing bonus on 17 August 2010.
After a fantastic 2014 season with the stats of .284 batting average and 21 stolen bases, Christian agreed to a seven-year $49.57 Million-worth contract extension with the Marlins on 22 March 2015. However, Marlins traded him to the Milwaukee Brewers on 25 January 2018 for Lewis Brinson, Isan Diaz, Monte Harrison, and Jordan Yamamoto.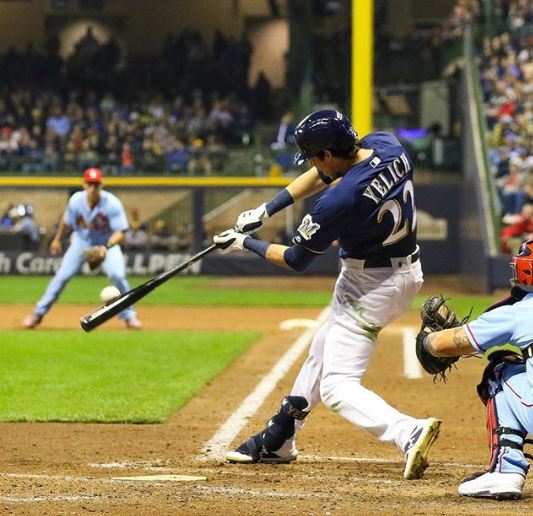 Christian Yelich takes strike against St. Louis Cardinals on 31 March 2019 (Picture: Christian's Instagram)
Finishing off the 2018 season with the stats of 118 runs, 110 RBI, .326 batting average, and 36 home runs from 147 games. Christian started the 2019 season with a bang registering 4 home runs from just 3 starts. He powered Brewers to an enticing 5-4 win over the Cardinals in the series finale on 31 March 2019. Later, he became only the sixth player to register a home run in four straight games for his team.
For the same season, he set the record to be the first National League player to lead the league in batting average and slugging percentage in consecutive seasons. Previously it was Rogers Hornsby, who did so from 1920 to 1925.
Another Home Run Star: Know About Paul Goldschmidt; Trade, Contract, MLB Stats, Wife, Height
According to Spotrac, Christian's base salary for the next seven-year is $26,928,571 with Brewers. However, his guaranteed salary is $188,500,00. For the 2020 season, he will receive a handsome paycheck of $12,500,000 and the adjusted salary with the team is $4,629, 630. One of the recent development of his contract is agreeing upon a nine-year extension with the Brewers for $215 million on 6 March 2020. It is one of the richest contracts in franchise history which was previously held by Ryan Braun's $105 million deal.
Girlfriend? Controversy? ; Christian's Off-Field Life
Despite the heightening professional success, the baseball superstar is yet to spill any beans on his personal life. No probable girlfriends of Christian Yelich have met the eyes of the media; however, the sportsman had some headache following an NSFW video scandal some years ago.
As per Complex, an erotic video hinting the presence of Christian was posted on Twitter by an account named @RealMarlinsFan in July 2016. The NSFW content exhibited an oral sexual activity between an unidentified woman and a man, to whom the user claimed to be then-Marlins' player. Following that, Christian put rest to the controversy through his tweet stating,
A false and defamatory video was tweeted about me the past 24hrs. It is 100% not me in the video. My attorneys are looking into it.
After that, the @RealMarlinsFan account got removed from Twitter. On the other side of his complex relationship story, Awesemo reports he is dating a lady named Emily Balkind. However, both the rumored has neither denied nor confirmed their alleged relationship. If they are truly in love, they have a different career path with Emily looking nothing sort of a model and a social media influence with a great knack of understanding of the fashion industry.
Some Interesting Facts About Christian Yelich
Christian is among the four players in Brewer's history to claim Major League Baseball Most Valuable Player Award.
He also had an international stint for the United States national baseball team in the 2017 World Baseball Classic.
He is a close friend to Cleveland Browns' quarterback, Baker Mayfield.
The athlete paternal great grandfather belonged to Serb from Tebinje, Republika Srpska.
Christian was baptized in the Serbian Orthodox Church as Risto.
He grew up as a fan of the Los Angeles Dodgers and New York Yankees.