Last Updated on: July 10, 2020 by: Daniel Roffer
American former linebacker, Brian Banks last NFL team was Atlanta Falcons. Before that, he was part of the playing squad including Las Vegas Locomotives to name a few.
Brian Banks Bio & Family
The former player was born on 24 July 1985 in Los Angeles County, California. He is the eldest son of Jonathan Banks and Leomia Meyers and has a younger brother named Brandon Banks. He grew up with his brother in Long Beach, a Southern California coastal city adjacent to Los Angeles.
Brian went to Long Beach Polytechnic High School, where he was teammates with DeSean Jackson, Darnell Bing, Winston Justice, and Marcedes Lewis. He stands at a height of 6 feet 3 inches (1.91 m) and weighs around 113 kg.
Career & Movie
Before a proper NFL career, he was part of many training camps including the Kansas City Chiefs, San Diego Chargers, and San Francisco 49ers during 2012 summer. In the same following year, he signed a contract for UFL team, the Las Vegas Locomotives on 20 September 2012. A year later, the Falcons signed him on 3 April 2013.
Brian played almost four preseason games with the Falcons until the team released him on 30 August 2013. After his final goodbye from the pitch, Brian became the in charge of the NFL Department of Operations in 2014.
Besides his work in sports, his recent 2019 film is Brian Banks.
Brian Banks 2019 movie Brian Banks (Video: YouTube)
The American biographical drama film revolves around him and the crime he did not commit which is released on 29 August 2019. His role is portrayed by actor Aldis Hodge. The movie is based on his book What Set Me Free, which was released on 2nd July 2019.

Brian Accused Of Rape
Talking about the incident, Brian was under police-custody after his classmate Wanetta Gibson at Polytechnic High School accused him of sexual misconduct in 2002. According to the crime, he could have been 41 years at the prison that reduced to five years of jail and probation after his plea.
Also Read: Raptors Pascal Siakam; Injury, Height, Wife, Contract, Dad, Dating
Nine years later, Wanetta contacted Brian through social media in 2011. In the meanwhile, she accepted making a false story to which Brian recorded her confession. After the judge overturned the conviction in 2012, he resumed his football career and even signed a contract with the Falcons in 2013.
Moreover, in April 2019 Brian was accused of sexual assault by a woman who claimed she was hired to clean his apartment in February 2018. She sued him for $10 million for assault, battery, false imprisonment, and intentional infliction of emotional distress. However, he denied the allegation and claimed that the evidence proves allegations false.
Brian's Wife & Their Divorce, Dating Now
The 33-year-old previously went to exchange wedding vows with a lady named Emanuela Marinova in May 2015. Sadly two years post the marriage, the couple's final divorce came in 2017.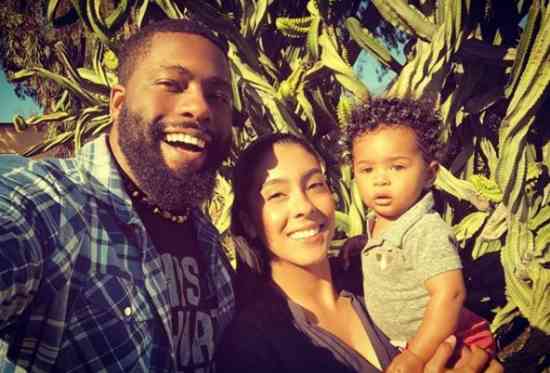 Brian Banks pictured with his girlfriend Vanessa and a son in December 2019 (Picture: Brian's Instagram)
Afterward, Brian started dating a girl named Vanessa. They welcomed a son named O'rion King Banks on 25 January 2019. He often shares pictures demonstrating his love towards his girlfriend and son on his social media account so far.
Explore: Who Is Tom Brady's Wife? Learn About His Net Worth and Facts
Some Interesting Facts About Brian Banks
Brian is the 2003 recipient of Rivals.com's "Juniors to Watch" before his school expelled him after rape accusation.
The player was trained under Seattle Seahawks under the coach, Pete Carroll. During Pete's tenure at USC, Pete was offered a scholarship in 2002.
Before training for Atlanta Falcons 2013, he was in prison for five years for the crime he didn't commit.
He is on the advisory board of the California Innocence Project, and the National Registry of Exonerations.