Last Updated on: June 30, 2019 by: Celebs Podium
Jeon Mi-Seon will always be remembered for her leading role as Eo-jin in the 2005 romantic comedy flick; Love Is a Crazy Thing. She was a prominent name in the Korean TV and movies industry whose acting spanned over three decades.
Read: American-Italian Bounty Hunter, Beth Chapman Dies At 51
It was around mid-morning at around when the police officials found her dead body. They were informed as soon as Jeon's manager told them after the artist was gone missing. She was booked for a provincial tour of a theatrical play and two days stay at the hotel. Although, the medical reports are yet to come and the family statement, it is said that she has taken her own life.
Many entertainment news portals including Soompi, has posted the death news of the prolific actress.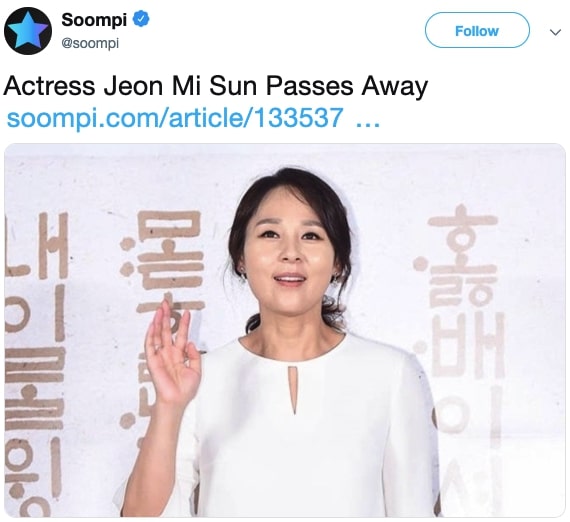 Jeon Mi-Seon death news posted by Soompi on 28 June 2019 (Picture: Twitter)
It is indeed an unfortunate moment for the Korean entertainment industry to lose a gem of her kind.
Career & Net Worth
The 51-year-old net worth should shimmer in millions after from an acting career since 1986. Some of her movie credits are The Last Ride (2016), Mother (2009) and Christmas in August (1998). Likewise, her TV acting includes The Great Seducer (2018), Reply 1988 (2015) and My Love (2006), to name a few.
Jeon Mi-Seon Bio, Family & Husband
The South-Korean artist was born on 7 December 1970 in Seoul. Just the like the missing details of her death, her family information is hidden from her bio. The actress went to The Seoul Institute of the Arts to complete her study on broadcasting.
Talking about her relationship status, she tied the nuptials with Korean cinematographer, Sang-hun Park in 2006. Her husband was born on 6 April 1969 in Busan, South Korea.