Last Updated on: February 8, 2019 by: Celebs Podium
Dorset Police confirmed the identification of Emiliano Sala's body after it was recovered late on Wednesday. It was few days after the private research team and AAIB located the wreckage of the plane on Sunday Morning and spotted the body on Monday.
The Piper Malibu N264DB aircraft carrying Emiliano Sala and pilot David Ibbotson went missing near the Channel Islands on 21 January. After initial searches came out with no lead, Sala's family pleaded for the private search team which started the rescue mission with UK's Investigation Branch.
Subsequent to the identification of the former Nantes forward, the investigation force stated,
The body brought to Portland Port today, Thursday 7 February 2019, has been formally identified by HM Coroner for Dorset as that of professional footballer Emiliano Sala.
Furthermore, they added,
The families of Mr. Sala and the pilot David Ibbotson have been updated with this news and will continue to be supported by specially-trained family liaison officers.
Investigators confirmed the identification of the plane carrying Emiliano Sala via their live footage (Picture Source: AAIB/SWNS)
The AAIB-led vessel, Geo Ocean III took the body to the nearest port of Portland in Dorset after successfully locating the wreckage early on. The sonar identified it, some 220ft below the surface. Following that, AAIB launched remotely operated underwater vehicle (ROV) to aid the search.
Amidst Sala's identification, the whereabouts of pilot David Ibbotson remains unclear so far.
Football World Pays Tribute!
Following the confirmation of Sala's demise, the football world started paying tribute to the deceased family. Emiliano's latest club, Cardiff City issued a statement moment after the identification came public. The club wrote,
We offer our most heartfelt sympathies and condolences to the family of Emiliano. He and David will forever remain in our thoughts.
Besides, Cardiff's full-back Joe Bennett and center-back Sol Bamba offered their condolences via their Twitter handle. In addition, the starts from the wider footballing world also paid tribute. Chelsea's defender Antonio Rudiger and Arsenal's midfielder Mesut Ozil are among the ones.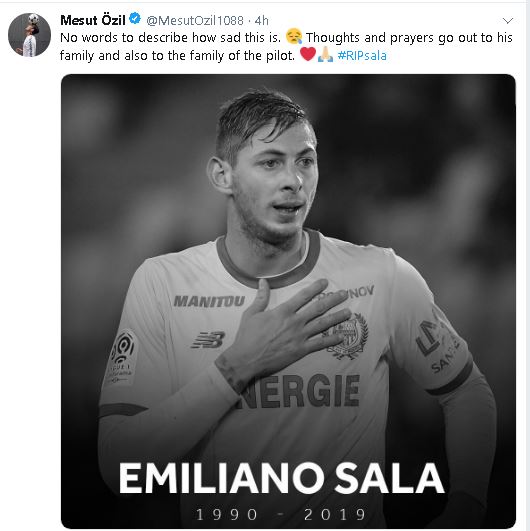 Sala was due to start his career with the English side Cardiff City after being the club's record signing. He moved to the club following a €15-Million deal from French club Nantes. As the player was off to start his training in Wales, he went missing.
Following the incident, Sala's parent club Nantes has demanded Cardiff pay his €15-Million transfer fee which is to be paid over three years. However, Cardiff has withdrawn the first payment claiming only to make it once they get satisfied with the documentation.