Dave Salmoni is a Canadian animal trainer, who has been appearing on TV shows such as Deadly Islands and Big, Small & Deadly. Besides, he has his own production company, Triosphere based on South Africa that specializes in wildlife documentaries and shows.
Dave Salmoni Bio: Early Life, Education
Dave was born on 4 September 1975 to Canadian parents in Sarnia, Ontario. His father was a chemical Scientist and his mother was a competitive figure skating coach.
Related: Who Is Wolf Blitzer's Wife? His Married Life, Family & Net Worth Details
Salmoni with a height of 6 feet 3 inches (1.91 meters) studied zoology at the Laurentian University in Sudbury, Ontario. There, he wrote his undergraduate thesis on tracking the hibernation of Alaskan black bears.
His Career
Dave started to work as an animal trainer at Bowmanville Zoological Park in 1988. Eventually, he left Canada and moved to South Africa for the controversial Tiger "rewilding" project in 2000.
Dave Salmoni appears in the show Jimmy Kimmel Live in Jan 2018 (Video: YouTube)
Salmoni has hosted and produced numerous wildlife-related television documentaries. He starred as a host and expert in the show Animal Face-Off. Furthermore, he hosted and produced the show Rogue Nature on Discovery Channel in 2007. Some of his TV shows include Jimmy Kimmel Live, Into the Lion's Den, After the Attack and Great Animal Escapes. Similarly, he hosted the second season of a reality show, Game of Homes.
Is Dave Salmoni Married?
The 44-years-old has been married to Debra Salmoni for more than four years. Well, the two lovebirds exchanged the wedding vows on 13 June 2015. They started dating in 2013 and eventually got engaged in early 2015.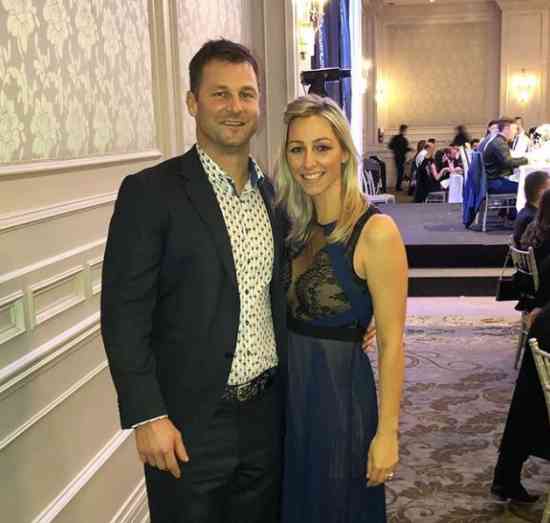 Dave Salmoni and his wife Debra Salmoni has been together for more than six years (Picture: Debra's Instagram)
Debra is a Toronto based interior designer and the owner of Debra Lillian Design. Their first child; a son named Thomas was born in August 2015. Later, they welcomed a second child as a daughter named Elizabeth.
Also Read: What Happened To Jim Acosta's Married Life? Family Life Details & Facts
Some Interesting Facts About Dave Salmoni
Dave was certified in Biological Immobilization of Wildlife and worked on an elk relocation project and at a pig deer count station for the Ministry of Natural Resources while studying in university.
In 1999, he was attacked by one of his trained five hundred pounds male African lion named Bongo that inspired him to make the show, After the Attack.
He is a fitness devotee and often spends his time in the gym.