Last Updated on: September 18, 2020 by: Lucifer
American actress Riley Keough is best known to play George Miller's role in the 2015 Australian post-apocalyptic action film, Mad Max: Fury Road. It was back in 2010; she made her film debut with Marie Currie's role in The Runaways.
Riley Keough Bio & Family
The actress was born as Danielle Riley Keough on 29 May 1989 Santa Monica, California, to parents Lisa Marie Presley, and Danny Keough. Her mother is an American singer-songwriter and has been in the music industry since 1997. Lisa is the daughter of late music sensation Elvis Presley and businesswoman, Priscilla Presley.
Riley has one brother, Benjamin Storm Keough, born on 21 October 1992 and two half-sisters, twins Harper and Finley born in 2008, from her mother's fourth marriage to Michael Lockwood on 22 January 2006, a producer, and composer born on 22 May 1961. Her parents got married on 3 October 1988 and ended on 6 May 1994. Lisa then married late pop icon Michael Jackson on 26 May 1994 and two years apart divorced on 18 January 1996. Almost six years later, Lisa and American actor Nicolas Cage exchanged their wedding vows on 10 August 2002 and ended too soon on 16 May 2004.
Read: Know About Shay Mitchell; Movies, TV shows, Husband, Age, Daughter
How Much Net Worth Does Riley Have?
The 30-year-old net worth is $5 million. She is able to garner such illustrious fame and fortune from the Hollywood industry since 2010. Some of her noteworthy movies include The Runaways (2010), Yellow (2012), Mad Max: Fury Road (2015), Logan Lucky (2017), and The Lodge (2019).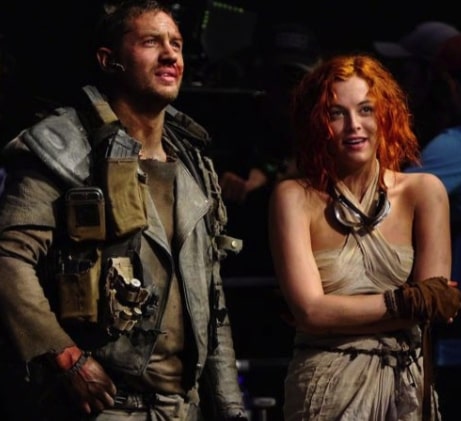 Riley Keough still with actor Tom Hardy in Mad Max: Fury Road (Picture: Pinterest)
Likewise, she has some but equally important TV credits like The Girlfriend Experience (2016), Paterno (2018), and Riverdale (2018). Besides her, Lisa has a massive net worth of $16 million.
Also: Know About J.D. Pardo; Wife, Twilight, Height, Daughter, Net Worth, Age
Riley Met Husband At A Film Shoot!
The artist and her husband Ben Smith-Petersen, are together for over five years now. Her husband is a stuntman by profession to whom she dated since 2012 after meeting during the shoot of Mad Max: Fury Road. Two years later, they got engaged on 14 August 2014 and the marriage ceremony on 4 February 2015 in Napa, California.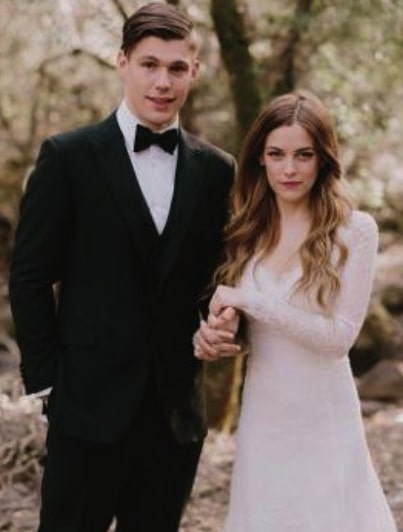 Riley Keough with husband Ben Smith-Petersen at their wedding (Picture: Hello)
The bride wore a bohemian-style couture gown accompanied by her mom Lisa Marie Presley and her grandmom Priscilla at the luxury resort Calistoga Ranch. Around 80 close friends and family members were a part of the grand wedding.
Riley & Husband Celebrated His Birthday!
The pair recently celebrated Ben's 29th birthday and it is apparent that her husband is two years younger than her. Ben is her best friend and the amicable comrade, the two share with one another apparent from their respective social media handles proves their unaffectionate love towards each other.
Her partner has strong ideologies on a social cause concern multi-cultural identities that start with academics. He has initiated a change titled Include Aboriginal Culture as a Subject in Schools and the funds collected through the page would assist the indigenous groups to be a part of a great learning experience in academic institutions to assure diversity and inclusiveness. The stuntman also believes that there are not enough learning course materials on aboriginal culture. To preserve cultural diversity, every academic hub must emphasize the rationality to change the learning ambiance irrespective of people's age, gender, ethnicity, and national identity on higher emphasis. Besides him, his partner is also enthusiastic about anything that has to do with a social cause and change. She has set up a page https://blacklivesmatters.carrd.co/ and the visitors can be a part of the change to bring social justice and inclusiveness and more to the people belonging to the Afro-American community.
At Last: Know About Katie Couric; Age, Husband, Daughters, Podcast, Net Worth
Some Interesting Facts About Riley Keough
Riley was born in Providence Saint John's Health Center.
Some of her mother, born on 1 February 1968 in Memphis, Tennessee, popular singles are Light's Out (2003), Dirty Laundry (2005), and You Ain't Seen Nothing Yet (2012).
Her father, born on 6 November 1964, work credits include The Lodge (2019) and Cabin by the Lake (2000).
The actress grew up very privileged with my mother, but a father from an impoverished family.
Riley's partner prefers using social media platforms like Instagram and has more than 11K followers.