Last Updated on: April 26, 2019 by: Celebs Podium
Largely appreciated for his prominent role on Game of Thrones, Kit Harington commenced his acting journey in 2008. With over a decade in this field, the talented English actor has tasted compelling success across TV and movies.
Bio & Family Life; Age, Height
Kit Harington, age 32, was born on 26 December 1986 in Acton, London, to the 15th Baronet and a businessman father, Sir David Harington, and a former playwright mother, Deborah Jane. Though you may get confused with his GOT character name, he was born as Christopher Catesby Harington.
Kit grew up in a very popular family which is referred to be ancient with the likes of his patrilineal great-grandfather, Sir Richard Harington, and 14th Baronet uncle Sir Nicholas John Harington. He studied at the Southfield Primary School from 1992 to 1998 and later moved to Worcestershire with his family. There, he joined the Chantry High School in Martley and studied until 2003.
The GOT actor subsequently enrolled at Worchester Sixth Form College, where he studied Drama and Theatre from 2003 to 2005. Standing at a decent height of 5 feet 7 inches (1.73 m), Kit graduated from the Central School of Speech and Drama in 2008.
Career Highlight: Jon Snow In Game Of Thrones
Three years after initiating his acting gig, Kit landed his first television role as Jon Snow in the HBO epic fantasy series, Game of Thrones in 2011. Acclaimed as one of the finest creations and most popular characters in the show, Kit Harington-portrayed Jon Snow turned up to become a series lead since the fourth season.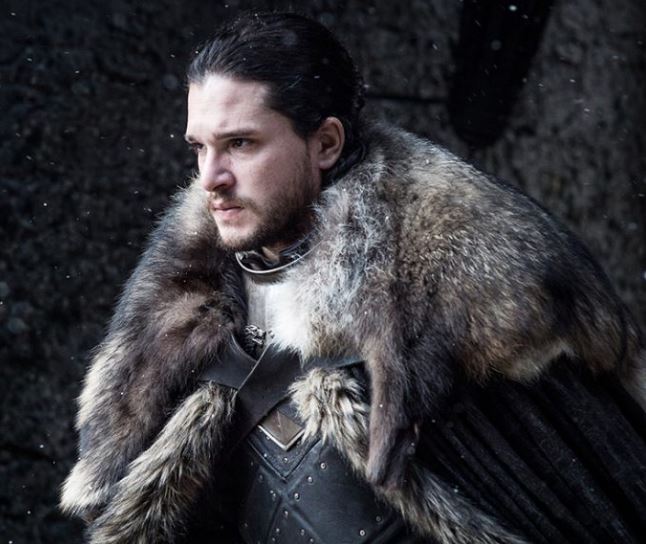 Kit Harington as Jon Snow on Game of Thrones (Picture: NME)
Beginning as a permanent outsider and often called as a Ned Stark bastard, Jon Snow went on to rule over the North as a worthy king as the series concluded its sixth season. However, the fans got to know the real identity of Jon Snow at the end of the seventh season, when he was just sharing a sensual moment with the Mother of Dragons portrayed by Emilia Clarke.
As the epic series is counting down towards its final season (premieres 14 April 2019), it will be fascinating to see whether the fan favorite, Jon Snow, claims an Iron Throne or not.
More From Game of Thrones: Know About GOT Maisie Williams; Age, Net Worth, Height, Boyfriend
Other TV And Movies, Net Worth
Besides Game of Thrones, Kit is known for his appearances on movies and TV shows including Silent Hill Revelation (2012), Pompeii (2014), Seventh Son (2014), Spooks: The Greater Good (2015), Brimstone (2016),
Gunpowder (2017), and The Death and Life of John F. Donovan (2018). Meanwhile, he also gave his voice to character Eret in two editions of animated fantasy film How to Train Your Dragon in 2014 and 2019.
With more than a decade in the entertainment field, Kit Harington enjoys a promising net worth of $12 Million. Besides, his outrageous $1.1 Million per episode earnings from Game of Thrones puts him among the highest paid series actors including Lena Headey and Nikolaj Coster-Waldau.
Married Life With Ex-GOT Cast Wife
Put aside gigantic fame and fortune for a while! The other major gift of Game of Thrones to Jon Snow, sorry, Kit Harington is his wife of less than one year, Rose Leslie. Cast as Ygritte in the series' second season, Scottish actress Rose had a romantic fling with Jon Snow despite claiming he knew nothing. Within no time, the on-screen romance replicated in the actor pair's real life as well.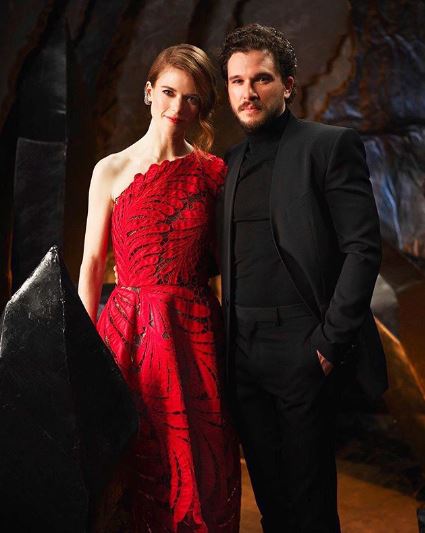 Kit Harington with wife Rose Leslie at the Game of Thrones Season 8 Red Carpet on 4 April 2019 (Picture: Kit's Instagram)
Kit and Rose remained on and off with their relationship before publicizing it in 2016. Following that, the pair announced their engagement on 27 September 2017. Less than a year later, the couple exchanged wedding rings on 23 June 2018 at the Rayne Parish Church in Aberdeenshire, Scotland. The beautiful ceremony lightened up with the presence of prolific actors Peter Dinklage and Emilia Clarke.
Some Interesting Facts About Kit Harington
His mother named him after English playwright, poet, and translator Christopher Marlowe, who is referred to as Kit Marlowe.
Kit nearly lost his life in the swimming pool while he was just four years old.
Since April 2016, Kit parts with a non-profit organization named The Royal Mencap Society as an ambassador which serves to help people with learning disabilities.
Not too long after his marriage with Rose, Kit received accusation of cheating his wife with Russian model Olga Vlasova, to which the actor fully denied.
He became a spokesman for Nissan's premium brand Infiniti in 2016.
Kit massively supports Premier League side Manchester United.