Last Updated on: April 26, 2020 by: Celebs Podium
Daniella Pick gained massive media attention after her marriage with award-winning American filmmaker Quentin Tarantino. Israeli by nationality, she is a singer and model, who has been featured in magazines such as Gostyle and Yedioth.
Daniella Pick Wiki; Family, Parents
Daniella Pick hails from a well-famed Israeli musician family. She was born on 21 November 1983 in Ramat Hasharon, Israel to parents Svika Pick and Mirit Shem-Or. Her father (born in Wrocław, Poland, to a Jewish family) is an Israeli pop singer, songwriter, composer, and television personality. Similarly, her mother is a songwriter who wrote the lyrics for many of Svika's hit songs. Her parents divorced in 1995.
Pick grew up with two siblings born from her parents. She has an elder sister named Sharona Pick and a brother. Her sister Sharona is also a music composer.
What Does She Do?
Apart from being the wife of the renowned filmmaker, Daniella has her own career. Following her parents' footsteps, she started her singing career with her sister, Sharona in the early 2000s. The duo named their group as The Pick Sisters and released songs such as "Tamad Ola Hamangina", "Shuv Hageshem", "Zot Ahava", and "Baby". They even performed in the song "Hello Hello" in the Israeli song contest The Kdam Eurovision.
Daniella Pick features in a music video of her song More Or Less in 2014 (Video: YouTube)
Some of her songs include "More Or Less" (2014), "Hayu Leilot" (2016), and "Yalla Yalla" (2019). Besides, she has made a guest appearance in her husband's 2019 movie, Once Upon a Time… in Hollywood. There, she appeared in the role of Daphna Ben-Cobo, the on-screen wife of Leonardo DiCaprio.
How Much Is Daniella Pick's Net Worth?
Well, Daniella is likely to enjoy her net worth in millions from her career. She has made big money from her multiple professional ventures.
Explore: Gisele Bundchen (Tom Brady's Wife); Net Worth, Age, Twin, Diet, Instagram
Meanwhile, her husband has notched up the net worth of more than $120 million from his filmmaking career. He has won two Academy Awards, two BAFTA Awards, and four Golden Globe Awards.
How She Met Quentin Tarantino?
Pick met her future husband Tarantino in 2009 while he was on tour in Israel. He was there to promote his movie Inglorious Basterds at the Jerusalem Film Festival.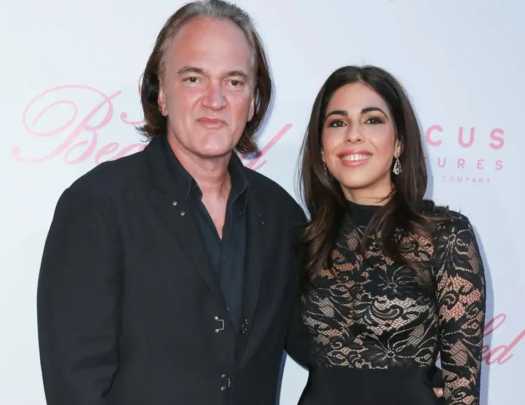 Daniella Pick first met Quentin Tarantino in 2009 in Israel (Picture: The Independent)
Their friendship soon developed into the relationship and they even started appearing together in numerous events.  In September of 2009, they were spotted together at the Los Angeles premiere of the sports comedy-drama film Whip It. The two have had an on-again-off-again relationship and reportedly started dating again in 2016. She and Tarantino got engaged on 30 June 2017. Tarantino previously dated costume designer Courtney Hoffman.
Their Wedding Details
After more than a year of their engagement, the two lovebirds exchanged their wedding vows on 28 November 2018. The intimate ceremony was held in Los Angeles.
Daniella Pick and her husband Quentin Tarantino during their wedding in November 2018 (Picture: People.com)
Daniella was in a white dress, white veil with a sweetheart neckline and tiara while Tarantino looked dashing in a black suit. They celebrated their nuptials at a larger gathering in the evening of their wedding day.
Welcomed A Baby Boy In February 2020
Daniella and her husband Quentin announced that they are expecting their first child in August 2019, after eight months of their marriage.
Also Read: Jedediah Bila Bio; Husband, Baby, Family, Salary, Height, Now
On 22 February 2020, she gave birth to a baby boy named Leo. Their son was born at a hospital in Tel Aviv, Israel, and will be an Israeli citizen. The family of three currently resides in Israel.
Some Interesting Facts About Daniella Pick
Daniella has more than 38k followers on her private Instagram account.
She is Jewish and her birth sign is Scorpio.
Her father was the leading pop singers in the 1970s, and was even voted "Israeli male singer of the Year."
Her husband received a star on the Hollywood Walk of Fame for his contributions to the film industry in December 2015.