Charlie Tahan is an American actor, who rose to prominence for his role as Wyatt Langmore in the Netflix original crime drama Ozark. He is set to appear as Michael in the upcoming 2020 movie Drunk Bus.
Charlie Tahan Family, Education
Charles Tahan was born on 11 June 1998 in Glen Rock, New Jersey. He is the middle of three children of Michael Tahan and Ellie Tahan. He has an older brother named Willie Tahan and a younger sister Daisy Tahan. Daisy, 19 is an actress, best known for her role as Samantha Focker in the 2010 comedy movie, Little Fockers.
Also Read: Know About Asante Blackk; Parents, Nationality, This Is Us, Family, Dating
Tahan with a height of 5 feet 10 inches (1.78 meters) attended Glen Rock High School at his hometown. He developed an acting interest at an early age, watching comedian actors John C. Reilly and Jim Carrey. Likewise, he appeared in numerous commercials such as Pillsbury, Werther's Caramel, T-Mobile, and Sears.
Career; Movies, TV Shows
Earlier, Charlie was cast as Ethan in the 2007 thriller, I Am Legend. In the same year, he appeared in movies Trainwreck: My Life as an Idiot and Once Upon a Film. In 2008, he starred as Danny Willis in the romantic drama Nights in Rodanthe. Moreover, he appeared in a recurring role as Calvin Arliss in the episodes "Trophy", "Penetration", "Rescue", and "Missing Pieces" of Law & Order: Special Victims Unit.
Tahan portrayed the recurring role of Jonathan Crane / Scarecrow in the crime drama series Gotham. In 2017, he returned in the fourth season of the show until the role was recast to David W. Thompson. From 2015 to 2016, he appeared as Ben Burke on Wayward Pines, the mystery, science fiction television series, based on the Wayward Pines novels by Blake Crouch.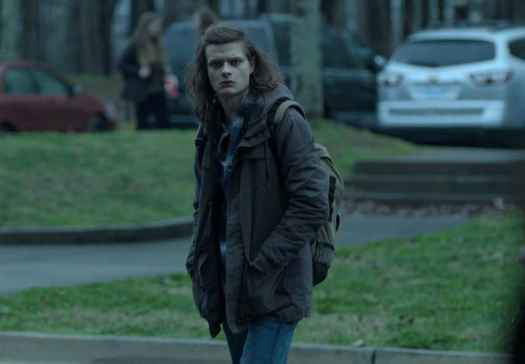 Charlie Tahan appears as Wyatt Langmore in the Netflix series Ozark (Picture: Pinterest)
As of 2017, he has been playing the main role of Wyatt Langmore in the Netflix crime drama series Ozark. In the same year, he appeared in the independent psychological thriller Super Dark Times, portraying the character of Josh. His movies work includes Meskada (2010), Blood Ties (2013), Life of Crime (2014), Wiener-Dog (2016), The Land of Steady Habits (2018), and Poms (2019).
Related: Know About Chandler Riggs; Parents, Family, Movies, Net Worth, Facts
Some Interesting Facts About Charlie Tahan
Charlie has lent the voice role of Victor Frankenstein in the 3D stop-motion-animated supernatural horror comedy film Frankenweenie.
His great-grandfather is Syrian and has Italian, Irish and possibly other ancestries.
His favorite movie of all time is The Emperor's New Groove and he has a desire to work with American filmmaker Paul Thomas Anderson.