Last Updated on: March 3, 2020 by: Celebs Podium
James Lipton will be remembered as the host and the executive producer of the cable television series Inside the Actors Studio. The show he ran from 1994 for 24 long years came to an end after he retired in 2018.
Hollywood Pays Tribute to James Death
The news of James' demise was made public by his wife Kedakai Lipton to the New York Times and the Hollywood Reporter. He took his last breath at his home in Manhattan. American singer Barbara Streisand posted a picture of herself and James on her Twitter account on 3 March 2020 wrote,
Rest in peace, James Lipton. He was interested in the actor's process, which was so refreshing.
Likewise, American actress Patricia Heaton also retweeted the breaking news posted by The Hollywood Reporter.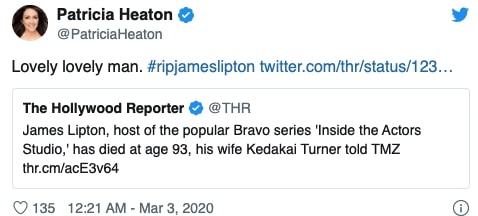 Other than them, American actress Susan Kelechi Watson posted a heartfelt emotional, social media post on 3 March 2020. She wrote,
I dreamed of one day being interviewed by you. Glad I got to fangirl you two years ago. Your show made a tremendous impact. Thank you, #JamesLipton. Rest well. #RipJamesLipton James Lipton Dies: 'Inside The Actors Studio' Host Was 93 https://deadline.com/2020/03/james-lipton-dead-obituary-inside-the-actors-studio-host-1202872280/ … via @Deadline
James Lipton Bio & Family
The actor was born as Louis James Lipton on 19 September 1926 in Detroit, Michigan. He was the only child of his parents, (née Weinberg) and Lawrence Lipton. Sadly, when he was six years olds, both his parents decided to part ways. James began to work from the age of 13 when his family struggled financially. The actor went to Central High School in Detroit, and then attended Wayne State University for one year in the mid-1940s and enlisted in the United States Air Force.
How Much Net Worth Does James Have?
The 93-year-old net worth is $1 million. He earned enough fame and fortune hosting and producing the cable television series Inside the Actors Studio from 1994 until 2018. Some of his film credits are Igor and Balt, released in 2018 and Bewitched in 2005.
James Marriage History!
The 93-year-old first marriage was with a woman named Shirley Blanc on 17 December 1947. They ended their nuptial reasoning divorce in 1953. Likewise, a year later, he walked the wedding aisle for the second time American actor and director, Nina Foch. The pair who exchanged their wedding vows on 12 June 1954 ended their relationship with a divorce on 2 February 1959. He then again married an actress named Kedaki Turner on 7 June 1954.
Some Interesting Facts About James Lipton
James' father was a journalist while his mother worked as a teacher and librarian.
The actor is also known to pen the Beat Generation chronicle The Holy Barbarians.
His dad abandoned the family.
He was a Polish Jewish immigrant.
James worked in high school as a newspaper copy boy for the Detroit Times and as an actor in the Catholic Theater of Detroit and on the radio.