American football quarterback Drew Lock plays for NFL team Denver Broncos. The 2019 NFL draft is the 2017 recipient of First-Team All-SEC and 2018 Second-Team All-SEC.
Drew Lock Bio & Family
The player was born as Andrew Stephen Lock on 10 November 1996 in Columbia, Missouri, to parents, Andy and Luara Lock. Drew's other family member includes his sister, Claire Lock. He went to Lee's Summit High School in Lee's Summit, Missouri. Drew then attended the University of Missouri to play college football.
Drew stands at the height of 6 feet 4 inches (1.93 m) tall and weighs around 103 kg.
Read: Know About Kevin King; NFL, Age, Dating, Stats, Contract, Salary
Career & Net Worth
The 23-year-old college career began going against Southeast Missouri State. In 2015, he played almost eight games for the team. His impressible stats came going 21 for 28 and became the Mizzou true freshman. His overall stats for the season was going 129-of-263 for 1,332 and four touchdowns.
In 2016, his stats were passing yards (3,399) and second in passing yards per game (283.3) and yards per completion (14.34). He is among few players to hold the second position in the SEC in completions per game (19.75) and third in total offense (293.5). Likewise, the 2017 season with a bang when his average stats were 242-of-419 passing (57.8%) for 3,964 yards with 44 touchdowns and 13 interceptions (165.7 rtg)

Drew Lock playing stats (Picture: EXPN)
After some months of wait, he got the fortune to ally with the Denver Broncos in the second round (42nd overall) of the 2019 NFL Draft. In the 2019 season, his stats are 134 yards, two touchdowns, and one interception.
Also: Know About Robert Woods; NFL, Wife, Age, Stats, Contract, Salary
Who Is His Girlfriend?
Apart from his NFL start, Drew relishes a great relationship with a girlfriend named Natalie Newman. By looking at his girlfriend's Instagram, she must be working for some modeling agency. Most of her IG post is hot and alluring flaunting different swimsuit labels.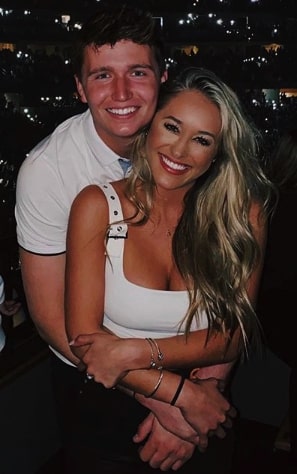 Drew Lock with girlfriend Natalie on 13 November 2019 (Picture: Drew's Instagram)
Although the couple remains seclusive to reveal their dating history, their admirable social media posts define a couple goals.
At Last: Know About Cooper Kupp; NFL, Wife, Stats, Contract, Salary
Some Interesting Facts About Drew Lock
During his high school, he recorded stats for 3,060 yards and 35 touchdowns.
In 2014, he became the Kansas City Star's All-Metro Player of the Year after passing for 2,731 yards, 28 touchdowns.
He was also considered a two-star basketball prospect as a shooting guard but retired from basketball after high school.
Drew finished his college football career with 99 Total Touchdowns.
On 1 September 2019, he suffered a thumb injury in the preseason.