Foundation acts as a barrier between the color & the skin's own natural oils, which would otherwise dissolve the make-up. But because it covers the largest area of the face, it needs to blend seamlessly with the skin.
Makeup Foundations For Different Skin Types

Before buying a new foundation there are two areas of concern that need to be addressed.
Foundation For Oily Skin

For oily skin that is prone to shine, an oil-free formulation will hinder the production of excess oil, and most contain extra powder particles to dry any oil produced.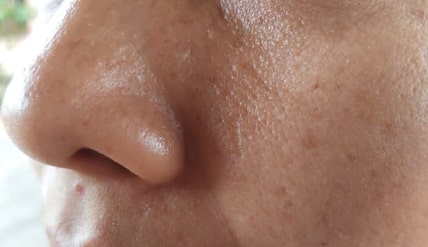 Foundation For Normal Skin

Normal skin can take pretty much any formulation, but a liquid will give ample coverage without looking caked or heavy. Dry skin needs make-up foundation with extra moisturizers to keep it supple, and to prevent the skin from drinking in the makeup. A cream make-up formulation will last longer and also hydrate.
Foundation Colours

The best time to pick a color is when your skin is at its most natural shade. So, after your holidays or morning-after self-tanning applications are not the best time. The best place to try make-up is on the jawline.
Two categories:

Foundation bases with yellow tones
Foundation bases with pink tones
The most common yellow-toned skin types are Asian, sallow and black skin, whereas fair skin has generally had pink tones. It is important to choose a foundation that matches your skin's base, otherwise, the make-up will not blend well, no matter how you apply it.
Applying Make-up Foundations

Oily Skin

With oily skin, the application of oil-free formulas needs to be fast, as they dry speedily. Using clean fingers to apply small doses to the areas most in need of coverage is the best way; simply do each area at a time until the face is complete.

Normal Skin

For normal skin, the choice of cream-to-powder liquid or powder foundation can change how much time you spend applying it. Cream-to-powder is best applied with a sponge, starting in the center of the face and working outwards; it's done in a matter of moments.

The liquid foundation looks more natural applied with a foundation brush. Again work the brush outwards, taking care to use less around the eye area.

Powder or mineral make-up foundation should be applied with a large powder brush; while it will not give the same level of coverage as a liquid, it is a great makeup for those who are pressed for time.
At Last: Top Five Useful Tips For Maintaining Good Eye Health
Dry Skin

For dry skin, the cream foundation moves well around the face, and a little goes a long way. Dry skin tends to have few blemishes, so concentrate on areas that need coverage, and leave clear areas bare: this is why getting the right color match is vital.